Continuing the Journey to Build PreK-Grade 3 Alignment
Early Childhood Summit focuses on continuity from birth to age 8
For the 8th consecutive year, the Regional Early Childhood Summit brought together a diverse group of school superintendents, principals, teachers, early childhood specialists, school board members, and other community members who are invested in children achieving their full potential in school and life. A total of 200 people representing 27 northeastern Minnesota school districts took part in the April 16th learning opportunity, held at the Holiday Inn in downtown Duluth.
"One of the most valuable aspects of the Summit, I believe, is the fact that districts attend as teams," said Lynn Haglin, Northland Foundation Vice President/KIDS PLUS Director, "providing them a rare chance to spend a day listening to high-quality presenters, building working relationships, comparing notes, and brainstorming new ideas to help young learners."
Dr. Sharon Lynn Kagan frames PreK-Grade 3 Alignment in terms of "3 P's"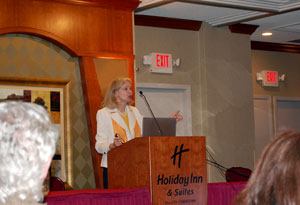 Keynote speaker Sharon Lynn Kagan, Ed.D. knows what she is talking about when she discusses the evolution of early education and Pre-kindergarten to Grade 3 alignment. Dr. Kagan is the Virginia and Leonard Marx Professor of Early Childhoood and Family Policy, Co-director of the National Center for Children and Families, and Associate Dean for Policy at Teachers College, Columbia University. She is also working with UNICEF to establish early learning standards in 10 countries abroad, including China. She is among the most well-known and respected early childhood experts in the United States.
Dr. Kagan began by giving a brief history of early education spanning the past 40 years, including different approaches taken and several landmark studies. She pointed out that, today, despite widespread consensus that the years from birth to eight are a crucial window for development and learning, this country still does not have all the pieces for PreK through Grade 3 alignment consistently in place. She explained that, while progress has been made, there is still much work ahead to build a stronger foundation for children to succeed in middle school, high school, and beyond.
The framework Dr. Kagan presented around creating alignment included three categories: Pedagogy, Programs, and Policy. She provided examples for each category and emphasized that strong efforts within all three will be necessary to successfully clear the hurdles to creating an effective, sustainable PreK-Grade 3 aligned learning experience for all young children.
Minnesota Office of Early Learning
Deputy Director of the Minnesota Department of Education's Office of Early Learning, Bobbie Burnham, shared highlights of what has been happening at the State level. Among her key messages were the review and revisions being made to early childhood assessment to be followed by training early education providers on these new standards. Thanks to the Early Learning Challenge (federal Race-to-the-Top Grant) efforts, Burnham added that 10,000 more young children already have access to high-quality early care and education and that the option of free all-day kindergarten is becoming more available across the state.
"I want to thank you for being here and for your commitment to doing what is best for our youngest learners," said Burnham.
Legislative Updates
Next, Kat Kempe, Senior Policy Advocate for Think Small discussed the current legislative climate. While there is no guarantee that the final state budget will fund early childhood to the extent that supporters would like, Kempe shared that statewide the momentum and collaboration around this issue is great, and that Governor Dayton has shown his willingness to put into place a strong early care and education infrastructure.
Kempe touched upon Parent Aware, the child care quality rating system and family-scholarship program rolling out in Minnesota communities. She thanked Itasca County, a Parent Aware pilot site, for their feedback which is serving to improve Parent Aware as it expands.
Finally, Kempe urged everyone to contact their legislators immediately in support of early childhood. The Take Action link in the Community Engagement section of the Think Small website is one simple route to connect with legislators.
Four northeastern Minnesota school districts offer panel discussion highlighting PreK-Grade 3 activities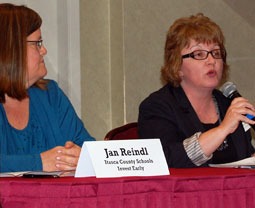 After lunch, panelists from Ely, McGregor, Itasca County, and St. Louis County schools shared their experiences -- both challenges and successes -- in relation to PreK-Grade 3 alignment work in their schools and communities. Megan Devine of Ely, Carrie White and Sara Moser of McGregor, Jan Reindl of Itasca County, and DeNeil Sirjord of St. Louis County provided food for thought.
Some of the key lessons they specified include: 1) Superintendents, administrators, and school board members must be engaged in the process alongside teachers; 2) Making time to bring all parties to the table can be difficult yet is critical; and 3) Creating a written plan with accountability helps ensure follow-through. All of the panelists concurred that their efforts are ongoing and their teams continue to adjust their plan as they go.
Grant opportunity from the Northland Foundation supports communities in the region to begin or continue working on alignment goals
The Northland Foundation announced a new grant opportunity at the Summit, available only to districts and schools in attendance. Grants up to $1,000 each will be awarded to selected applicants to support their meetings, planning, and projects toward increasing PreK to Grade 3 alignment. Applications are due May 31, 2013.
The Northland Foundation has granted more than $87,400 over the past 6 years to school districts that have participated in Summits, not including the grants that will be awarded this spring. This funding has helped to underwrite kindergarten transition and alignment work in nearly two dozen northeastern Minnesota districts.
"Our Board of Trustees has been extremely supportive of approving the resources needed to make these grants each year," said Lynn Haglin. "and we know that schools, which are unfortunately always pressed for funds, have greatly appreciated it."