Spring 2014
IN THIS ISSUE
2014 Regional Early Childhood Summit promotes collaboration and continued work on PreK-3rd Grade approach
Registration now open for Adverse Childhood Experiences and Circle of Security Trainings
NE Minnesota Early Childhood Initiative highlighted in 10-year publication
Early Childhood Funding Highlights
Summit Keynote Speaker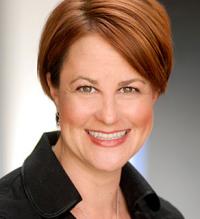 Thank you, Summit Sponsors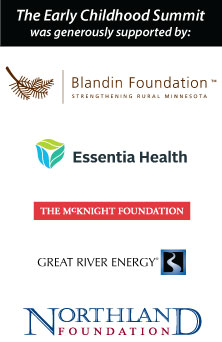 8th Annual Early Childhood Summit joined 26 teams together to learn, compare notes, and plan
Keynote and conversations geared toward a strong PreK-3rd Grade approach in northeastern Minnesota schools
The Regional Early Childhood Summit attracts more than two dozen public, charter, and Reservation school teams each year. They include superintendents and school board members, principals, administrators, teachers, community education directors, early care and education professionals, and other special guests. Participants bring a diversity of experiences and titles, but they come together for one day with common goals: to expand their thinking and share ideas about how schools and communities can best support the region's young learners. This year, the 8th annual Summit was no exception, with more than 200 participants representing 26 teams in attendance.
Mary Kosak of the Blandin Foundation is honored for early childhood work
There were some very special items at the top of this year's agenda.
The Northland Foundation honored Mary Kosak, a longtime friend and colleague with the Blandin Foundation. Kosak began working at the Blandin Foundation in 1998 with the Children First! Initiative and retires this spring as a Grants Team Program Manager. Tom Renier and Lynn Haglin of the Northland Foundation presented Mary with a gift and extended warm wishes for her coming retirement.
Next, Neal Cuthbert, Vice President of Program at The McKnight Foundation took the podium to help recognize the 10th anniversary of the Minnesota Early Childhood Initiative. McKnight was a catalyst for the Northland Foundation and five other Minnesota Initiative Foundations to collaborate together on the Minnesota Early Childhood Initiative and has been a critical funding partner for early childhood and PreK-3rd Grade work throughout Minnesota.
Minnesota Dept. of Education's Mike Brown shares high points
From the Minnesota Department of Education's Office of Early Learning, Mike Brown touched on some of the high points of statewide efforts in relation to early care and education and the PreK-3rd grade approach. Brown talked about Parent Aware, work on the new standards that are under development for Early Childhood Indicators of Progress, as well as the difficult but rewarding task of moving PreK-3rd grade forward in Minnesota schools and communities.
Kristie Kauerz, Ed.D., shares PreK-3rd Grade Framework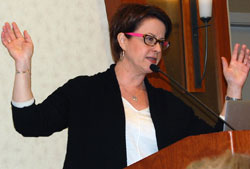 This year's keynote speaker, Kristie Kauerz, Ed.D., is a rock star on the national stage of prekindergarten to 3rd grade work. Although Kauerz's knowledge of brain development research and early learning is encyclopedic, her style is anything but dry and academic. This is one expert who is as engaging and down-to-earth as she is smart.
Kauerz set the stage with brain science, achievement gap, and learning outcome statistics, then moved on to sharing emerging success stories in states ranging from Maryland to Georgia to Washington.
Dr. Kauerz was clear that embracing a comprehensive approach to PreK-3rd grade is no small task. However, she emphasized that school districts, educators, parents, and communities can, by being creative, intentional, and determined, change things for the better. There is, she added, no one-size-fits-all solution and no right or wrong place to start. Communities and schools must adapt and find a way forward that works best for them.
Kauerz also briefly reviewed the research-based, 8-point Framework for Planning, Implementing, and Evaluating PreK-3rd Grade Approaches she has developed. Everyone at the Summit received a copy of the Framework courtesy of the Northland Foundation.
After lunch, attendees took advantage of a Q&A session with Kauerz, who stayed through the afternoon to hear what McGregor, Itasca Area, and Ely districts have been working on with PreK-3rd grade work.
"Having had the past privilege of hearing Kristie Kauerz speak, she was at the top of my list for Summit presenters, and we are so fortunate that she was able to join us in Duluth and share her knowledge," stated Lynn Haglin, Northland Foundation's Vice President/KIDS PLUS Director.
Moving to Action: teamwork time facilitates intra-district discussion; grants offered to Summit participants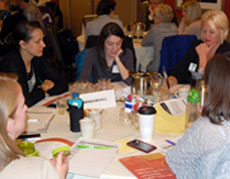 Despite the heavy snow that began to fall, nearly all the teams remained throughout the afternoon to participate in district/school team discussion and work time. With some worksheets to guide their thinking and conversation, team members reflected on what their schools and communities have accomplished thus far, as well as where they may go from here.
Once again, the Summit ended with an invitation for participating teams to apply for Northland Foundation grant funding up to $1,000 to help advance their PreK-3rd grade efforts. Teams were especially encouraged to reach out to early care and education providers in their communities, to facilitate information-sharing and ensure that "PreK" includes development and learning even before the preschool years.
"Time is at a premium for educators and administrators, so, with the help of our generous sponsors, our focus each year is to make the Summit a worthwhile investment of their time—from featuring top-notch speakers to offering grant opportunities," stated Lynn Haglin, Northland Foundation's Vice President/KIDS PLUS Director.
ACEs Training
"Build Resilient Brains,
Strengthen Protective Relationships"
Download informational flyer
Tuesday, June 10
8:30 a.m. - 3:00 p.m.
lunch provided
Registration forms are available on the Northland Foundation EVENTS page
COS© 4-day Parenting DVD Training
Download 4-Day Training flyer
Monday, Sept. 29 - Thursday, Oct. 2
8:30 a.m. - 4:30 p.m.
lunch provided each day

$900/person by 9/1/14
$1,000/person after 9/1
5-9 people receive 10% discount; 10+ receive 15% discount
Register for 4-Day Training
COS© 1-Day Introductory Training
Download the 1-Day Training flyer
Friday, October 3
8:30 a.m. - 4:30 p.m.
lunch provided
$45/person
Register for 1-Day Training

LOCATION FOR ALL TRAININGS
Holiday Inn & Suites Downtown Duluth
Great Lakes Ballroom
Adverse Childhood Experiences and Circle of Security Trainings scheduled—register now!
Build Resilient Brains: Strengthen Protective Relationships focused on how to help children who have experienced trauma
An Adverse Childhood Experience (ACE) describes a traumatic experience in a person's life, occurring before the age of 18. They frequently occur together and have a strong and cumulative impact on the health and functioning of adults. Despite all this, adversity is not the end of the story. There is increasing understanding about resilience and what families, communities, and systems can do to protect children and support adults with ACEs.
The Northland Foundation, with support from the Casey Family Programs, is hosting a team-driven training, at no cost to participants, on June 10th. Although registration as a team is strongly encouraged, individual registrants will be able to be place with a team for the group work.
Teams/professionals in early childhood, K-12 and higher education, child care, mental health, child welfare, public health, health care, substance abuse, juvenile justice/corrections, public safety, faith community, and youth development would all benefit from this training.
More details and registration forms are available on the EVENTS page of the Northland Foundation website.
4-day Parenting DVD Training and 1-day Introductory Seminar to learn about COS® research-based protocol
Circle of Security early intervention program for parents and children has

established an acclaimed DVD parenting education program offering the core components of the evidence-based COS protocol, which integrates findings from attachment research, brain science, and psychology into a user-friendly conceptual framework. The Northland Foundation is pleased to welcome Glen Cooper to Duluth this fall. Glen is a co-originator of Circle of Security® and has presented COS all over the United States and the world. While in Duluth, he will lead two training opportunities.
4-Day Seminar

The 4-day Circle of Security Parenting DVD seminar trains professionals to use an 8-chapter DVD to educate parents and caregivers. The program presents examples of secure and problematic parent/child interaction and offers healthy options in caregiving.
Who should attend: Mental health professionals, social workers, home visitors, family support workers, behavior support specialists, public health and human services, marriage and family counselors, and anyone who provides parenting education and/or counseling to parents of young children.
1-Day Introductory Seminar
The one-day seminar provides attendees with an introduction to applying evidence-based practice into interaction with children and families to promote emotional wellbeing and mental health from birth through old age.
Who should attend: Everyone is invited to attend the 1-day training, regardless of occupation or educational background: parents and foster parents, child care providers, early childhood educators, medical and mental health professionals, Guardians-ad-Litem, attorneys, and other child service professionals.
Parent Aware Pathways
Quick Facts
Parent Aware Pathways is making great progress

In October 2013, the Northland Foundation began an exciting new, three-year program to help increase the number of Parent Aware-rated child care providers who are serving families in the region.
With generous support from the Mardag Foundation, and in cooperation with Child Care Aware Minnesota – Northeast District, Parent Aware Pathways offers information, incentives, technical assistance, coaching, and peer learning group participation to licensed child care providers located in St. Louis or Carlton County.
Parent Aware Pathways is designed to complement the efforts of Child Care Aware to reach out to providers, whether they are center-based or a licensed family child care. The end-goal is ambitious: to help achieve 163 rated providers in St. Louis County and 20 in Carlton County by 2016.
Headway is being made! Since the launch, 35 child care programs—of which 74% are licensed family-based providers—have been engaged in St. Louis County. We are now reaching 9.2% of all eligible licensed family child care in St. Louis County, whereas prior to the launch of this initiative that number was just 2 percent. In just three short months in Carlton County, eight programs are already participating, of which 75% are licensed family child care. This equates to 10% of all eligible licensed family child care providers in Carlton County.
Amanda Huseby, who owns Pitter Patter Playhouse Child Care in Mountain Iron, is already Parent Aware rated and has joined Parent Aware Pathways to work toward a higher rating level.
"Becoming Parent Aware rated has been a great decision, because quality is so important to me," says Huseby. "The training, new ideas, and assistance with curriculum development have been excellent, and it's nice knowing that when I have questions, help is just a phone call away."