Thrive expands awareness of infant and early childhood mental health and informs local, regional, and state efforts
Since 2007, the Northland Foundation has been working with school and community-based organizations to support the healthy social-emotional development of young children and families. The Thrive Initiative serves as a resource to professionals working in the Duluth-Proctor-Hermantown area and surrounding communities. Thrive offers high-quality training on current research and evidence-based infant and early childhood mental health strategies.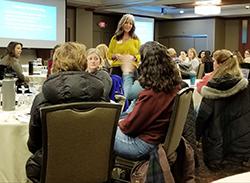 Deidre Quinlan (center), a Circle of Security
International supervisor, presented a two-part
training to the Thrive group in February.

This past year, 385 unduplicated participants from 80 organizations have been engaged. Among the eight Thrive trainings held this year were presentations on the latest research about the biology of stress and science of resilience, a two-part session on Circle of Security, and an overview of home visiting services. Members of Thrive also attended the Early Childhood Summit in May and the Nurturing the Northland conference in June.
Thrive participants report the trainings have been highly effective in helping them embed evidence-informed practices into their work.
"Thrive has offered an avenue for professionals from diverse sectors to strengthen their relationships, which in turn has enhanced the services and supports available for young children and families. We deeply appreciate our Thrive participants' time and dedication." -Lynn Haglin, Vice President/KIDS PLUS Director, Northland Foundation
Learnings from Thrive have also helped Northland to extend its reach with educational workshops for people providing informal family, friend, and neighbor care; licensed child care; school-based early childhood programs; and early elementary classrooms. During the past year, 22 social-emotional trainings reaching 670 people who work with young children were held across the region. We also partnered with 11 communities to offer Play-and-Learns designed for informal caregivers of young children, resulting in 19 social-emotional learning sessions for 330 adults and 375 children.
In addition, the group lent its insights on what young children and families need to grow and thrive. As part of the Minnesota Preschool Development Birth through 5 Grant, the Northland Foundation conducted nine listening sessions this spring with Thrive participants, early learning educators, parents and grandparents, and community members in the region. Data gathered in these sessions will help the state to apply for significant federal funding.
Thrive Initiative funding partners
Thrive was made possible during the past year thanks to the generous support of the following partners. Thank you to:
Essentia Health • Southern St. Louis County Family Service Collaborative • Medica Foundation • Lloyd K. Johnson Foundation