East Range Communities, Barnum, and Bigfork become newest AGE to age sites
With two brand-new communities and Itasca Area moved to Bigfork, AGE to age is thriving in 18 sites across the region
With support from the Northland Foundation, more young people, older adults ages 55+ and the ages-in-between are connecting, learning from each other, and helping their rural communities to become even better places to live for people of all ages.
AGE to age: bringing generations together has launched this fall in Barnum, East Range Communities (Aurora, Biwabik, Embarrass, Hoyt Lakes, Lakeland, Makinen, Markham, Palo, Town of White), as well as re-ignited the former Itasca Area AGE to age in Bigfork.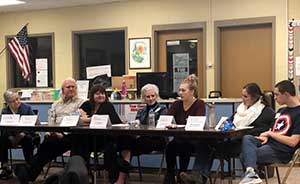 Speak Out panelists in Barnum shared their experiences
growing up in the area starting in the 1930s through today.
Each site begins by bringing together children and youth, adults, and older adults in a series of meetings, including a fun Speak Out at which a panel of people from all different generations share stories about growing up in the community. Speak Outs are designed to include all ages, including a 96 year old in Bigfork, as they learn about what they have in common and what is different today compared to the past. Two more facilitated meetings follow the Speak Outs, where participants create their community vision, brainstorm project ideas, and set plans to implement their first AGE to age projects.
The Northland Foundation guides the planning meetings and provides funding for intergenerational projects. These might be things like starting a garden, walking or exercise groups, game nights or ice cream socials, technology learning sessions with young people teaching older people, or beautifying a local park.
The other AGE to age sites in the region are: Aitkin, Bois Forte Band of Chippewa, Chisholm, Cloquet, Ely, Floodwood, Fond du Lac Band of Lake Superior Chippewa, Grand Portage Band of Lake Superior Chippewa, Hibbing, International Falls, McGregor, Moose Lake, North Shore Area (Silver Bay and Finland), Proctor, and Two Harbors.
"I know great things will happen in the new AGE to age communities when older adults and youth bring their creative ideas and energy together."
—Lynn Haglin, Vice President/KIDS PLUS Director
AGE to age began in 2008 as part of the Northland Foundation's KIDS PLUS Program. Each of the now 18 sites is created by and for local members of the community, as a way to connect young people with older adults. The results are almost magical, as friendships form across the generations, everyone shares their talents and skills, and people of all ages work together on community activities and projects.
AGE to age expansion funding support
The Northland Foundation received a grant from the Mardag Foundation to help fund the expansion of AGE to age to the new sites. We thank the Mardag Foundation and other AGE to age partners for helping more communities tap the power of the intergenerational friendship and civic engagement.