New resources provide data on key measures and trends for our region
The Northland Foundation partnered with the Wilder Foundation, creators of the Minnesota Compass website, to produce a series of "data snapshots" featuring some key demographic and wellbeing measures for the seven counties of northeastern Minnesota.
Compass Points publications capture regional data
The resulting customized Compass Points publications contain the most recent, reliably sourced data for select measures, related to Northland Foundation priorities, and illustrate trends related to age, economics, education, and more. In all, one 4-page regional overview and eight, single-page county documents were created.
Links to the 10 Compass Points pdfs are found on the Publications & Annual Reports page at www.northlandfdn.org.
"Good data around a few key measures can paint a telling picture of what is happening, both at a moment in time as well as over a period of years." --Tony Sertich, President.
"The Northland Foundation saw tremendous value in having the experts at Wilder craft a digestible, focused summary to help guide our decision-making and planning, as well as to share with anyone else who could benefit from this information," Sertich said.
If you have questions about Compass Points, contact Erik Torch, Director of Grantmaking.
Online data tool build-out includes all of northeastern Minnesota and state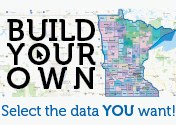 The Build Your Own Profile Tool found online at mncompass.org lets you choose existing geographies or draw your own configuration to get data from any area, large or small, statewide. Combine, compare, or draw geographies to easily create a custom profile.
Here are a few ways users can access detailed information that pinpoints the exact geography they wish.
Zooming: Use the controls in the top left area of the map, your mouse's scroll wheel, or pinch on touch devices.
The powerful yet user-friendly tool can help businesses, government entities, school districts, and nonprofit organizations to set priorities, make strategic planning and funding decisions, and track trends in their community or service area. Give it a try!