Business Finance Program News

Nearly $1 million invested in nine area businesses
The Northland Foundation's Business Finance Program has recently closed nine loans totaling $968,331. These investments will assist northeastern Minnesota businesses to start up or expand, as well as contribute to job growth.
MNSTAR Technologies, Grand Rapids

Rapids Brewing Company, Grand Rapids

Northern Skin Rejuvenation, International Falls

Block North, LLC, Aitkin

CAST Corportation, Hibbing


Hanzell Co. d.b.a. Cedarbrook Lumber Company, Aitkin

Spirit of the Lake Community School, Duluth

Pharmasea Breeze, LLC, Aitkin

Wired2Fish, Inc., Grand Rapids
To learn more about the Business Finance Program and the tools available, please email Michael Colclough or Alex Bastien, or call the Northland Foundation at (218) 723-4040.
---
Grand Rapids growth supported by flexible financing
The Grand Rapids-area business landscape is evolving and the Northland Foundation is happy to play a role. Our team has been busy in Itasca County with gap lending for a start-up that is rehabbing a historic downtown building as well as financing to accommodate a longtime client's recent growth spurt.
Rapids Brewing Company
"Northland Foundation's involvement in the project was the catalyst to complete the gap financing and move this from the drawing board to reality." —Ed Zabinski, Co-founderNew kid on the block, Rapids Brewing Company, will be only the second Grand Rapids entry into the red-hot craft brewing industry. The project involves refurbishing the old downtown Rialto Theater to house a multi-barrel beer brewing system and adding on a new space for a wood-fired oven and kitchen. They will serve their own brews, as well as wine and a selection of spirits. The site will include not just the brewpub but also offer an event venue with seating for 180 people and standing room to accommodate 350.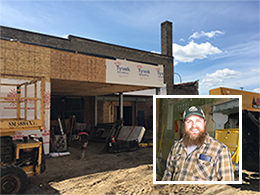 Bill Martinetto, general manager, is one of
several local people bringing the project to life.
Rapids Brewing received financing from bank and other lending partners, including a sizable gap loan from the Northland Foundation. The company has hired a brewmaster and event specialist moving from a brewery in Alaska, and is guided by an experienced local board and management leadership team. Construction is in full swing with opening planned for mid-summer 2019.
MNSTAR Technologies
Mike Rhodes, the founder of MNSTAR Technologies, is a longtime Northland Foundation Business Finance client and Grand Rapids-area business owner.

Mike Rhodes started
MNSTAR in 1993.
Rhodes' company, MNSTAR, designs and manufactures electrical systems and wire harnesses for the Emergency, Commercial Truck, Marine, OEM, Recreational, and Energy markets, among others.
From MNSTAR's 23,000 square foot facility outside of Grand Rapids, their products end up installed in police cars, fire trucks, ambulances, front end loaders, cherry pickers, snow plows, tractors, and more. The company has successfully weathered ups and downs through the decades, including the last recession, and has come back stronger than ever, currently employing 110 people.
A recent Northland Foundation loan, in participation with other development lenders, boosted MNSTAR's working capital to manage continued expansion.
"We value our long-standing relationship with MNSTAR and have enjoyed partnering with them as they have grown," said Michael Colclough, Northland Foundation's Business Finance Director.