Business Finance Program News

Seven new loans closed to support northeastern Minnesota businesses and job creation
The Northland Foundation's Business Finance Program has recently closed seven loans totaling $558,985 to six businesses and one nonprofit in the region.
Pure Energy Dance, Cohasset

M R Larson, LLC, Ely

Lotus Corporation, Eveleth

Aftenro Society, Duluth

RSF Industries, Inc., Hibbing

Hibbing Family Chiropractic, Hibbing

Blue Rock Wine and Café, Duluth
To learn more about the Business Finance Program and the tools available, please email Michael Colclough or Alex Bastien, or call the Northland Foundation at (218) 723-4040.
---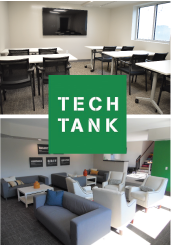 Tech Tank offers a variety of
work and meeting spaces.

Hibbing Entrepreneur introduces TechTank coworking space
Hibbing's new co-working space, TechTank, is a place where business professionals can work, collaborate and network with each other.
Located on 1st Avenue in Hibbing, TechTank encompasses 3500 square feet of shared member space, private rooms, and conference rooms. Monthly and annual memberships as well as day passes are available.
Owner Karine Woodman was already a successful Iron Range-based entrepreneur whose 24hrBookkeeper serves the construction industry. Northland Foundation financing helped Woodman expand 24hrBookkeeper and develop TechTank.
The building in which TechTank is located was sitting empty when Woodman bought it. After more than a year of extensive remodeling, the grand opening and ribbon cutting ceremony was held in September.
"There are so many people in our community doing great things but who were limited by working from home. Now they have a place to interact and share ideas."
—Karine Woodman, owner
Amenities at TechTank include fiber optic internet, color printing services, conferencing equipment, whiteboard walls, and a variety of work spaces. Some rooms are small for private meetings or work, while others are open for working in a group or simply networking with other members.