Ambitious new Aging Program will move Rural Aging Initiative outcomes to the next level
Like the Rural Aging Initiative
before it, the new Integrated
Rural Community Aging Program
will aim to help older adults age
with dignity and autonomy.
After six years of focus on supporting aging service organizations, older adults, and family caregivers the Northland Foundation has concluded its Rural Aging Initiative. But, this work is far from over.
Starting this January, Northland began a new $3.5 million, three-year effort with support from Margaret A. Cargill Philanthropies. The Integrated Rural Community Aging Program will help targeted regional sites to offer a better-coordinated range of services and supports for older adults. The end goal: help ensure that people in our region, as they age, can live with dignity and independence, maintain healthy social connections, and have access to the care they need.
"The Northland Foundation has a long history of grantmaking in support of the well-being of older adults, said Tony Sertich, Northland Foundation President.
"With our region's population aging at a fast pace, more than 20 percent are now 65 or older, the timing could not be better to have this additional funding and great community partners to take the past work to a whole new level," Sertich added.
Three strategies over three years
The first "piece" of the new Program is Community Planning and Care Coordination. From a pool of applicants, eight organizations have been chosen to lead local coalitions in a formal planning process, identifying existing services and gaps in services, and developing action plans. The Northland Foundation will provide technical support in partnership with the Arrowhead Area Agency on Aging, as well as funding to help the coalitions carry out their action plans designed to improve awareness and delivery of supports to older adults. Northland will also work with Tribal partners to provide resources that will help them further support their Elders to live well.
Secondly, the new program will increase Social Engagement among older adults while also helping children and youth thrive. Northland's 18 AGE to age sites in the region have played an important role in the Rural Aging Initiative. The AGE to age sites are ready to hit the ground running, not only to continue their successful community-based programming that links adults 55+ with young people but also to serve as information hubs for local residents to learn about and get connected to aging services and supports.
Finally, a Quality Care/Workforce strategy will be put into play. The Northland will work with education, economic development, and labor force partners with a goal of increasing the quantity and quality of caregivers in the region. Projects might include programs to attract more students into the aging services and gerontology health care fields, making certification and training more accessible, and helping service providers improve employee recruitment and retention.
Building on Rural Aging Initiative learnings and outcomes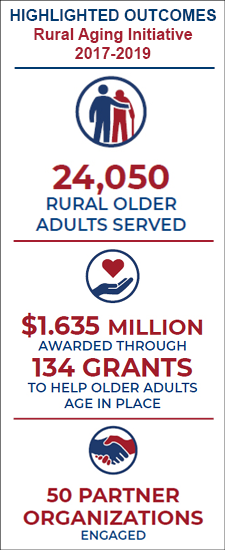 In 2017 the Northland Foundation began the second of two three-year phases of its Rural Aging Initiative which first began in 2014. In close partnership with the Arrowhead Area Agency on Aging, Northland worked with 18 aging services organizations, 4 Tribal Nations, 18 AGE to age sites, and 10 other grantee organizations serving older adults in northeastern Minnesota. The Rural Aging Initiative Phase II employed three strategies:
Capacity Building which included training, funding awards, and peer learning for 18 nonprofit aging services organizations.

Civic Engagement and Social Connectedness among older adults through support for the region's 18 AGE to age sites.

Aging Innovations Program which offered competitive, strategic, and targeted grants in support of creative and expanded programs to help older adults age in place.
Thanks to their participation in the Rural Aging Initiative, the communities and Tribal Nations of northeastern Minnesota have strengthened their aging services, increased the number of older adults being served, launched new and expanded programs, and built relationships across the region that will serve them well in the future. The lessons learned and the outcomes achieved over the past years have laid a foundation on which the Integrated Rural Community Aging Program can build.
For more information
For more details about the Integrated Rural Community Aging Program, please contact Zane Bail, the Director of Development and Special Projects at the Northland Foundation.